2020 has been a strange year all round, but we were sad to realise that we were fast approaching festival season with nowhere to go. All the big music, beer and food festivals have been cancelled this summer, but that doesn't mean that's the end of that. Instead, we've decided to put a positive spin on 2020 and get that festival experience at home.
If you can't face the rest of summer without that experience, here are our tips to bring the festival back home: experience the freedom, the euphoria, the music and the joy right in your garden: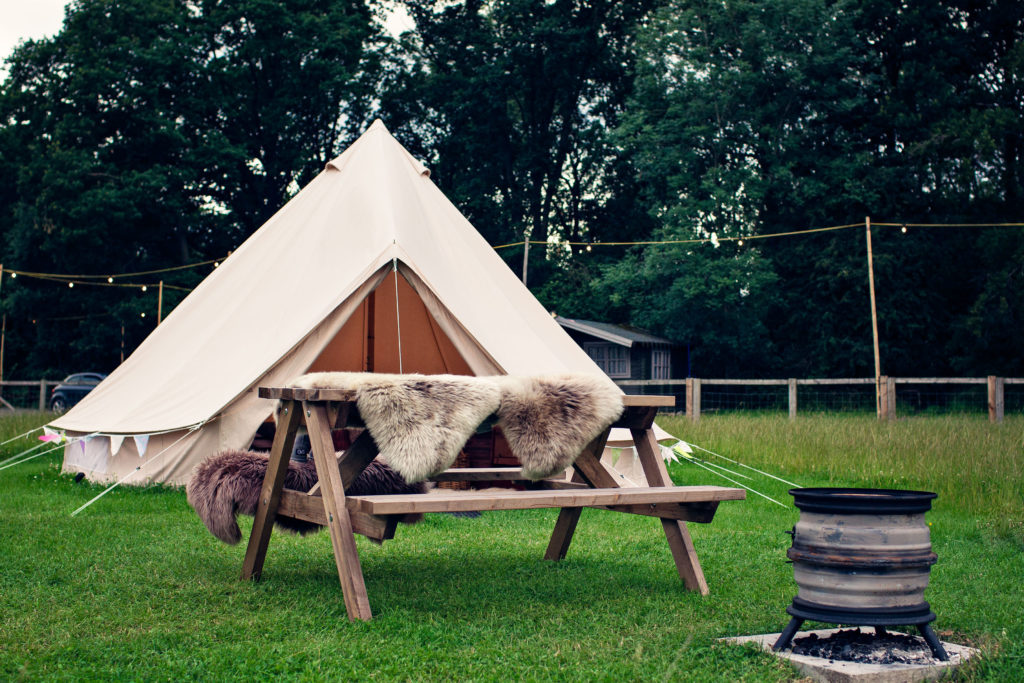 It's time to get your tent on!
For a true festival experience, you'd usually require knee deep mud, soggy clothes and shoes that never fully dry and a stock of baby wipes that any new parent would envy. This made us wonder, do we really miss that?! Let's leave some parts of the festival where they belong!
Instead, pull that old tent out of storage, drape a few blankets across tree branches, or just create your own little fort in the garden with hammocks and sheepskin cushions.
The advantage of setting up a tent in your own back garden is that you can choose a night that's warm and dry, a spot that's quiet and calm, and you've got a wardrobe stocked full of dry, cozy clothes and a comfy bed if you change your mind!
Get creative
We were lucky enough to be able to visit Camp Hill Estate near Bedale recently to get a few photos of our stunning sheepskins in use in their beautiful surroundings. This inspired us!
For a truly magical festival experience in the comfort of your own home, it's the decorations that make it. Your tent doesn't have to be anything special by itself: twinkly fairy lights, sumptuously soft sheepskin cushions around your sleeping bag, sheepskins over a hammock, a crackling fire pit outside your tent, toasting marshmallows and being at one with nature. We're thinking glamping rather than camping!
If your own back garden lockdown festival is a full family experience, get the kids to design a programme detailing the different stages and acts. You could even design tickets, wristbands and lanyards. Create playlists with all your favourite artists to play at different times and get dancing!
Get the Festival Look
It wouldn't be a festival without the trusty old wellies and denim shorts. Grab the glitter, the face paint and backcomb your hair – whatever helps you get that festival feeling. Drag them out of hiding and wear them with pride, even if it's only for a few hours then you're back in your slippers again!
Don't forget the drinks!
Your lockdown experience can do one better than that plastic cup overflowing with warm cider. Mix up your own cocktails, make mocktails for the kids for their first "festival", and enjoy sipping them by the firelight in a cozy seat with music playing around you. That's an experience you can't really replicate at a big festival!

Silent Disco
For those that want to continue well into the night as you normally would, a silent disco is the answer – all you need is good music and a few pairs of headphones. You won't bother the neighbours, but dancing under the stars with whoever you've chosen to share the experience with will certainly rival the real festival experience any day.

Enjoy the Outdoors
At the end of your festival fun, bed down in your tent, surrounded by the cozy sheepskins, the fancy festoons and the beautiful bunting you hung earlier, or just sleep out under the stars. Then wake up in the morning and hop in your warm shower, revelling in the fact that you certainly wouldn't get that at any other festival!