Windsor - Black Sheepskin Footmuff
You are here:
Home

→

Windsor - Black Sheepskin Footmuff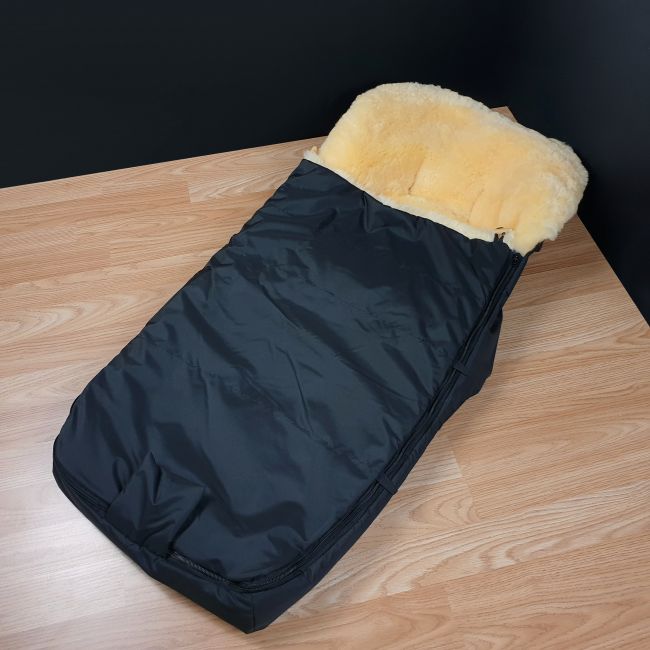 Product details
The Windsor Black Sheepskin Footmuff is the largest of our collection. It is a great accessory to provide warmth and comfort to your baby's exploring and is compatible with a wide range of large buggies. Its lightweight design, combined with a lining made from genuine sheepskin, has been specially designed to meet the highest standards of production.
The outer material is windproof and water-resistant, protecting your baby from wind and rain. In warmer months, the footmuff's zip fasteners allow the removal of the cover for extra comfort. You can also use the Windsor Black Sheepskin Footmuff as a play mat when it is fully unzipped.
Sheepskin has temperature-regulating properties that make it ideal for both the summer and winter. Also, sheepskin has a soothing effect that makes it comfortable for babies, resulting in reduced stress and better sleep. It also helps activate the circulation of blood in the body, allowing relief for aches and pains.
Sheepskin contains lanolin, which is soothing for those with skin conditions such as eczema. Also, lanolin makes sheepskin bacteria and dirt resistant hence the self-cleaning quality.
Size: for larger buggies and strollers.
Recently viewed items