Have you ever felt a piece of material and wondered whether it was real or not? Here, we'll explain all the characteristics of what to look out for, when determining a real sheepskin rug.
In order to help you differentiate between real sheepskin and other materials, we've made the following guide.
All of our products here at Jacobs & Dalton are 100% real sheepskin and we deliver quality material for our customers. Our cosy sheepskin rugs are our most popular choice!
Contents:
How to tell if sheepskin is real?
What does real sheepskin feel like?
Can you wash a real sheepskin rug?
Which is better: sheepskin or lambskin?
Benefits of having real sheepskin.
How Can You Tell If Sheepskin is Real?
A sheepskin pelt is considered authentic if the fleece is still attached. This is the common rule to go by, but also a sheep's wool doesn't have to be white, fluffy or curly. Some sheep have black hair, even grey, brown or a mucky white colour to their hair.
To determine a sheep wool's genuine quality, you can pull on the material ever so slightly and see whether or not the fur gets loosened. Here, you're wanting the material to remain firm to decide whether it's real. Any signs of the material being weak and pulling away will mean it's not a real sheepskin rug.
The sheepskin material has become more popular over the years with fashion trends and people showcasing them on display inside their homes, you tend to see more fake sheepskin alternatives out there, unfortunately. Other materials are often passed off as sheepskin by many retailers.
How to tell – real sheepskin is made from the skin and wool of a sheep. These are leftover products from the food industry that would otherwise be discarded. Leading to no further environmental damage.
You can examine the pelt of the sheepskin which is on the back of the sheepskin, this will tell you right away, whether the product is real or fake by gently pulling the wool to see if it's durable. It certainly won't come away easily and you can feel the underside which will be smooth throughout.
Fake sheepskin is made from synthetic materials that include polyester and acrylic, which is then backed onto knit or woven fabric.
When you start pulling at the pelt, this will then pull away from the back a lot easier and will be less strong, leading to signs of fake material. Once pulled from the back on the pelt, you can also see the woven texture, which is another sign of it being fake.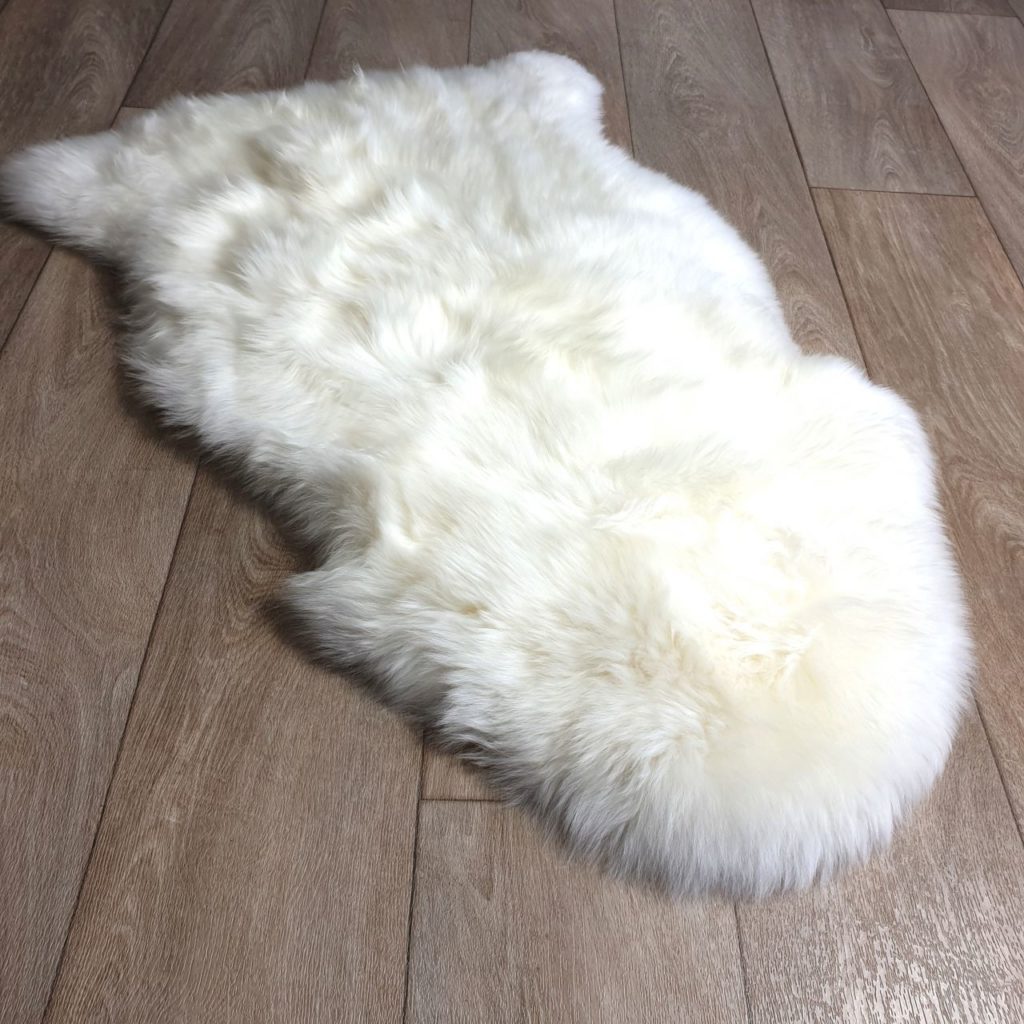 What Does Real Sheepskin Feel Like?
Real sheepskin is much more comfortable than the synthetic fake alternatives. By feeling the wool and by separating the fur, a woven mesh-like fabric is noticeable rather than leather.
The sheepskin rug should be soft and comfortable, and feel natural. No tense materials.
When you pass your hands through the soft sheepskin material, you'll be able to feel the natural sleek fiber, and it will fall between your fingers effortlessly.
Fake sheepskin will almost feel a bit like plastic form or also described as prickly.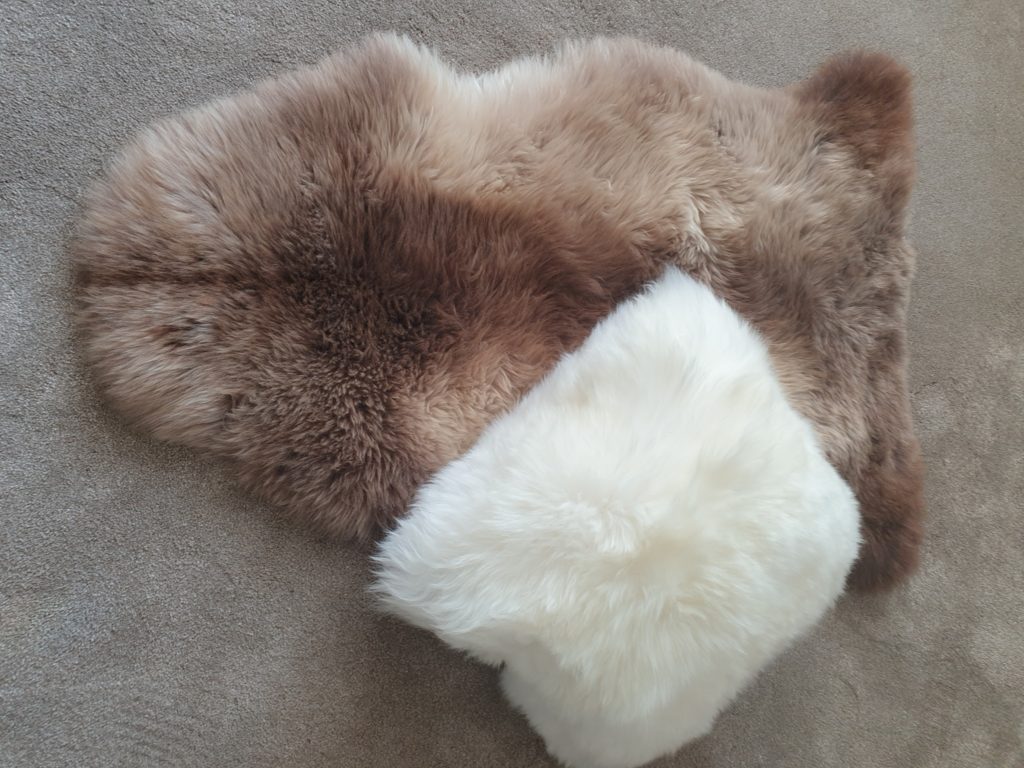 Can You Wash a Real Sheepskin Rug?
Burnt umber, mustard yellow, terracotta red – this gorgeous warm colour palette is perfect for fall, but did you know it can also stimulate positive emotions and encourage more social behaviour?
It's not advised to put your sheepskin rug into the washer and if a label suggests to do so, then you can guarantee it is not authentic.
After washing a sheepskin rug, the fibres lose their lanolin, causing the skin overtime, to look dull and matte.
It is preferable to wash sheepskin rugs by hand since it is a gentler process and protects the fibres for longer. A real sheepskin rug needs to be cared for and looked after properly. Natural sheepskin is a hugely versatile, sustainable and long-lasting material that needs to be maintained by following its simple process of keeping it clean.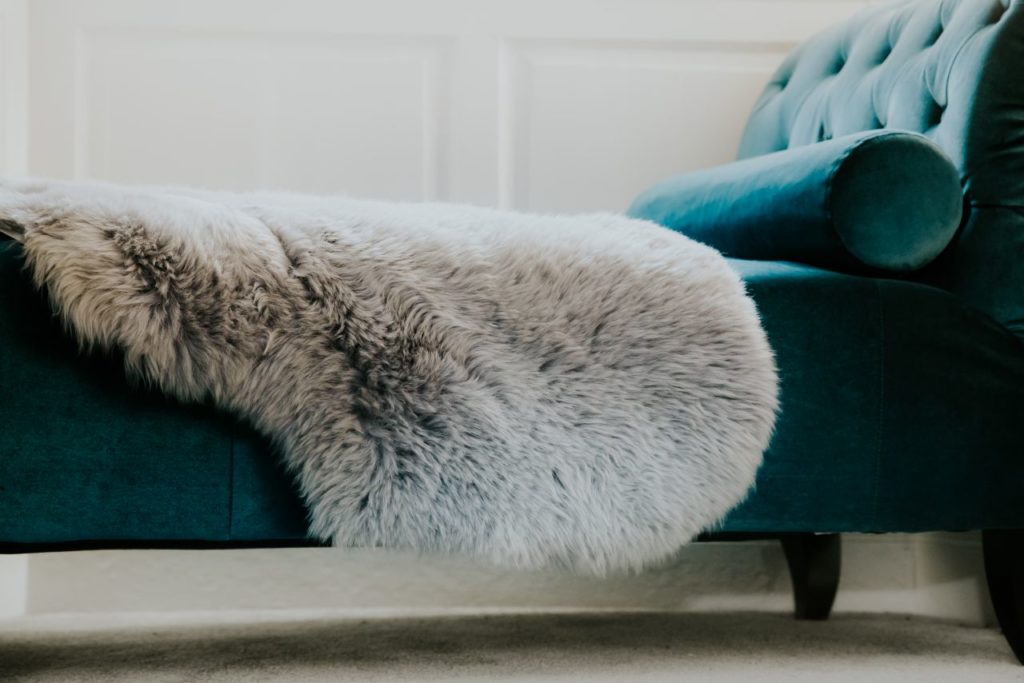 Give your rug a shake and follow on by brushing the rug gently, getting in-between the material and removing any dirt or debris. You may find some of the fibres to come out but this is considered normal, even after being gentle and careful.
If you want to be extra protective then get yourself a wool carding brush. A good brush will go a long way in restoring and maintaining your sheepskin rug.
If your rug has a smell, turn it over towards the pelt and sprinkle some baking powder. Rub this in gently, allowing the rug and baking powder to absorb odors. You can also seek out essential oils such as peppermint to eliminate the odour.
Considered to be the last resort, if you absolutely need to get your sheepskin rug cleaned, then seek out a professional's advise beforehand. They will advise to use a gentle wool cycle and a cool wash, not using hot water.
You'll also need to avoid cleaning products and bleach and fabric conditioners. This will lead to your rug having permanent effects.
To avoid any last resort washing, keeping your rug in perfect condition, follow these steps:
Simply, shake the rug from time to time. Shaking off any debris or dir.
Maintain the rug's softness by brushing regularly.
Sustain a cool, well-ventilated environment for your rug.
Carefully vacuum the fibres after brushing.
Which is Better: Sheepskin or Lambskin?
The main difference between sheepskin and lambskin is the age.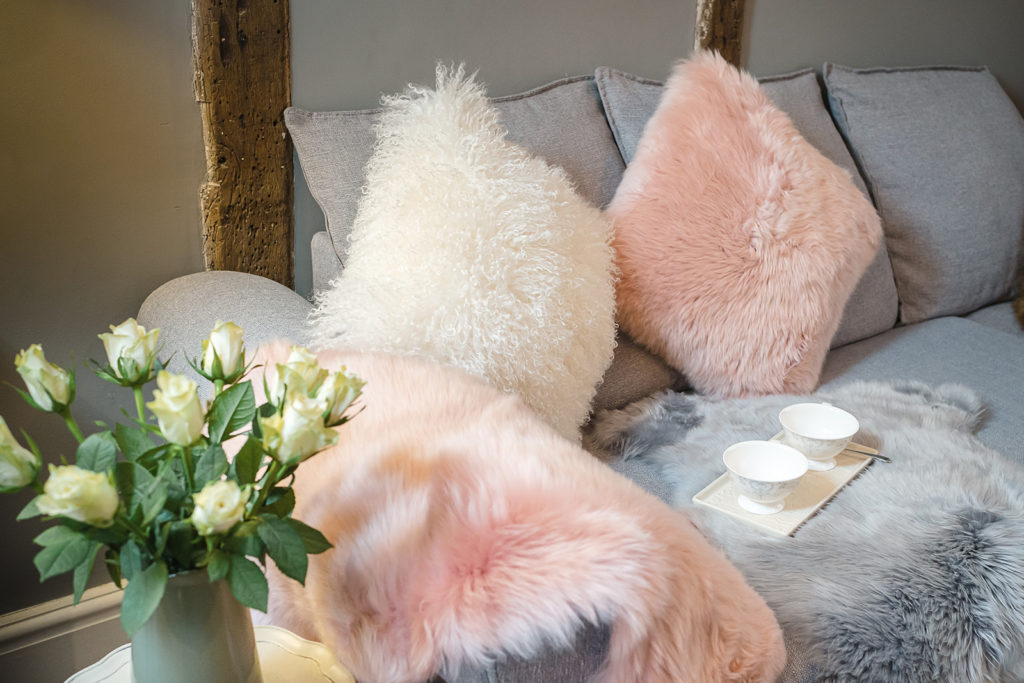 Lambskins come from young ovine animals and sheepskins come from mature ovine animals. Lambs are young sheep, while sheep are older than lambs.
Sheepskins are larger in size given they are older than lambskins. A lambskin material is much thinner and smaller in size. A very fine and silky touch.
Both sheepskin and lambskin have their own unique characteristics. Deciding which is best will be solely down to you and what you're looking for.
Lambskin will provide a thinner and softer approach which will also be appropriate for baby pram liners and leather lambskin jackets.
Sheepskin is cheaper, practical and has great natural fibres to help support babies. Good for all-round use for homes and fashion.
Both materials offer great options and they also look visually appealing. Both sheepskin and lambskin have a soft feeling sensation which is suited perfectly for your skin.
Benefits of Real Sheepskin
Fake synthetic sheepskin alternatives are far less beneficial than real sheepskin. The real sheepskin's benefits include its durability, breathability, and self-cleaning ability. All natural pelts are of the highest quality and each is unique in shape.
In addition to being a trendy fashion option, sheepskin has many amazing benefits.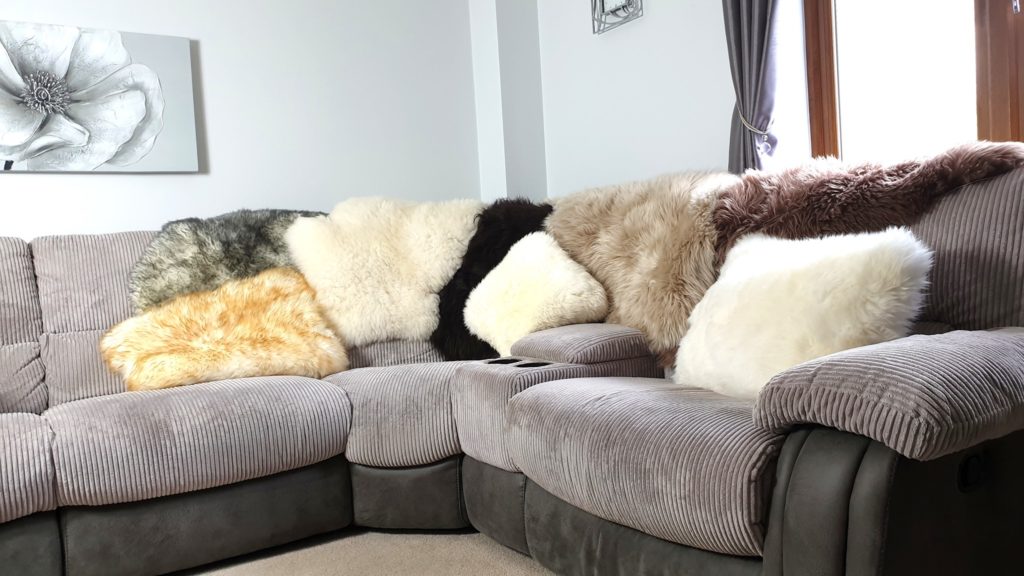 Benefits include:
More comfortable than fake alternative sheepskin rugs.
Suitable for medical and baby-care purposes.
Much more durable and stronger quality materials.
Supports to relieve aches and pains.
You won't need to replace your real sheepskin rug, whereas fake products won't last as long!
Real sheepskin rugs are perfect for babies as they are soft, but also help with their bodies to regulate their temperature.
Skin shear and friction are reduced.
Due to the fiber's natural resilience, wool fibers do not break when you bend them.
Great against your skin. This is down to the hypo-allergenic nature of sheepskin.
Wool's naturally hollow fibres provide warmth in the winter, and keeps you cool in the summer.
Improves blood circulation in your body. Additionally, medical sheepskin provides warmth, which helps circulation.
Fibers made from wool are naturally water-repellent, so they provide moisture protection for garments.
As you can see, there's a bundle of benefits when using real sheepskin material! There's actually even more to include.
In fact, you can gain plenty of health benefits too! The genuine sheepskin wool has its natural fibres that can deter pests such as bedbugs. As a result, the spread of disease is minimized.
Moisture can cause skin breakdowns, and the natural fibres of sheepskin have moisture wicking abilities, which completely stops the moisture when entering the skin. This will lead to stopping possible infections and skin breakdowns.
Sheepskin and human skin naturally contain lanolin. Sensitive or inflamed skin can benefit from this to relieve rashes or even eczema.
Wool's natural resistance to mold and dust mites makes it a good choice that helps avoid people getting sick. Sheepskins for babies can minimize illnesses, helping the baby to sleep well at night.
Sheepskin products make the perfect gifts, as they are very adaptable, and people will wear sheepskin coats and jackets all throughout the year. When it's raining or snowing, a sheepskin jacket will only need to be shaken lightly and brushed over.
Fibers in sheepskin materials are self-cleaning mechanisms that resist dirt and bacteria.
This concludes our top tips on how to determine if a sheepskin rug is real. We hope you found this article useful.
If you need any further advice, do get in touch with us!