A downstairs bathroom is often one of those forgotten about rooms. You keep it nice and clean for guests, but it usually doesn't receive the same love and attention that other spaces such as your living room or kitchen get.
We love a good home makeover, and even better when the result is a cosy, Scandi-inspired space designed out of something that was once functional but drab. That's why we're obsessed with Laura Jones' DIY Instagram-inspired cloakroom transformation, the process of which she shared on her Instagram account @livingwith_laura_j.
This room was crying out for a revamp, not making use of the small space effectively and with plain uninspiring decor. Once everything was removed, Laura had the perfect blank canvas to use her DIY skills and keen interior design eye to create a warm and cosy feel that fits in perfectly with the rest of her home's style which Laura explains is "neutrals, country feels and a bit rustic, but also Scandi vibes as well."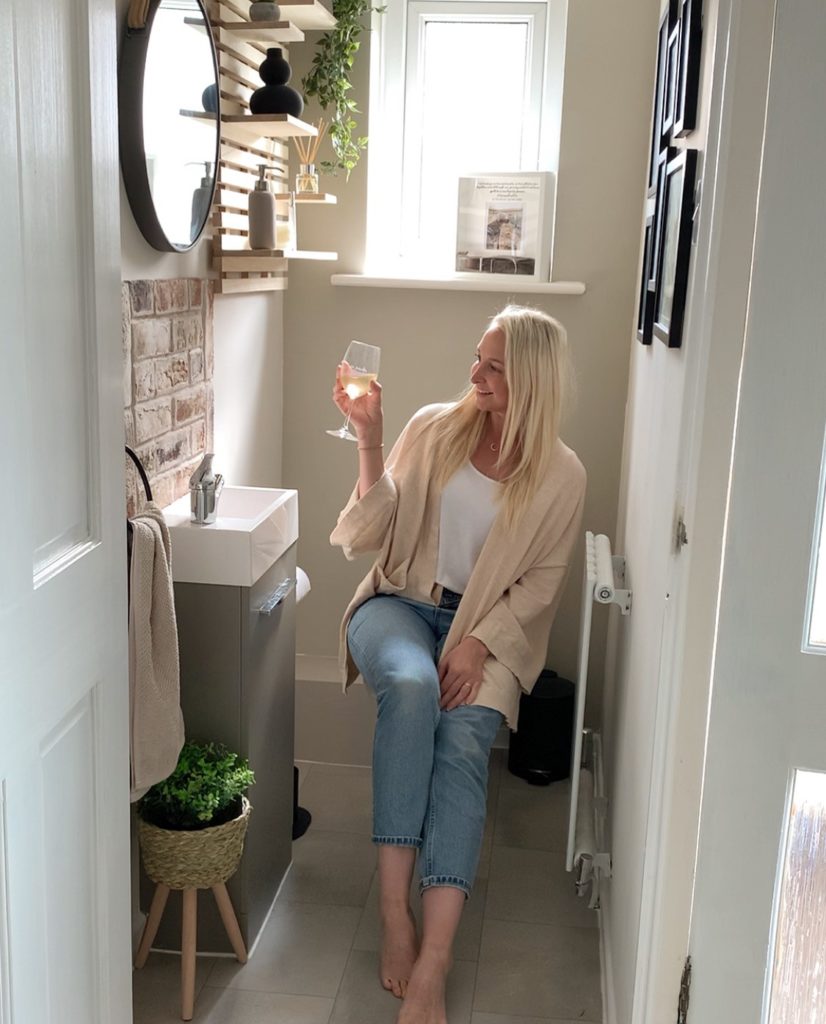 We spoke to Laura to find out more about how she totally transformed this once simple room into one that's packed full of gorgeous details that somehow don't overwhelm the small space she had to work with:
"Having looked at a lot of inspiration on Instagram and Pinterest, I actually found that adding decor and details to the small space makes it look bigger not smaller. It was just about finding the right amount to add. Adding features gives a sense of size and depth otherwise, if it looks bare, it almost looks smaller."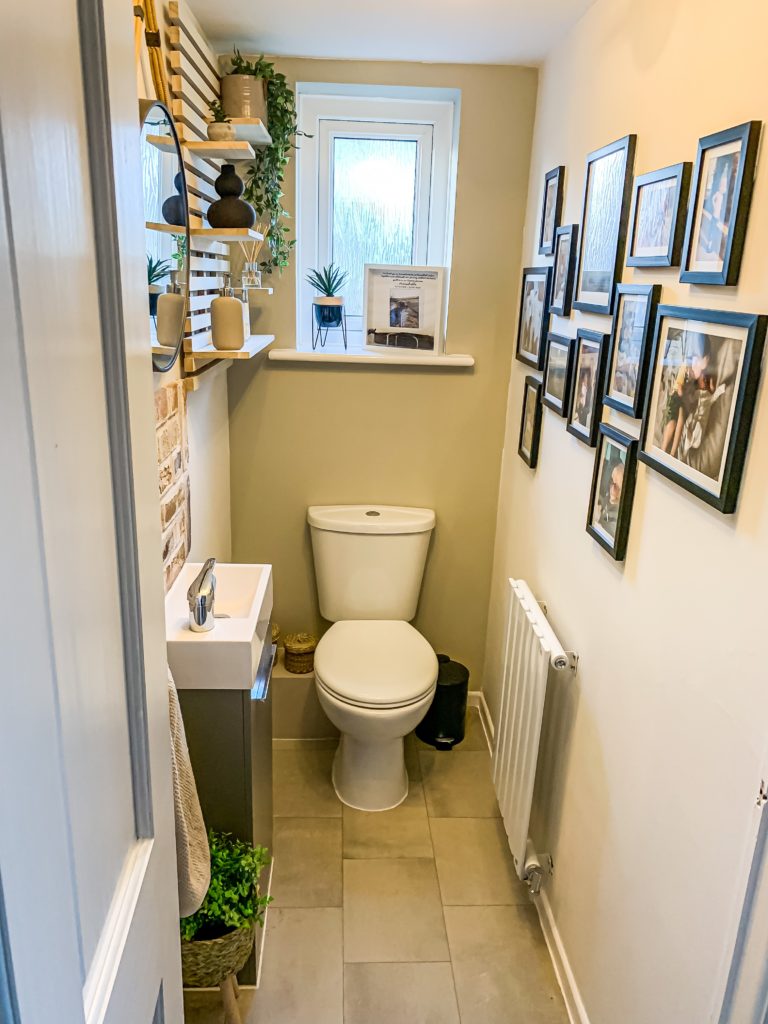 For those who struggle to decide on what details to include, Laura has a couple of super tips using Instagram itself: "There are so many visualizer apps you can use to place decor and furniture in a room, some do charge you so for a really basic and free version I use Instagram stories feature of adding pictures to your images and cropped pictures of the things I wanted to add so I could see them in the space."
Laura also took advice from her followers on Instagram Stories using votes to decide on everything from paint colours – whether to go with a darker coloured feature wall behind the toilet or a darker colour below a dado rail – to whether or not to use leftover brick slips instead of tiles as a backsplash behind the sink.
So what details do we love about Laura's Scandi-inspired bathroom?
Soft neutral tones are absolutely key when working in a small space like this, but neutral never means boring in our opinion! We love the addition of natural accents (obviously a favourite of ours!) such as a rattan plant pot and baskets, and the rustic bricks as a splashback. Adding natural elements such as sheepskin rugs to a bathroom will help to add softness to otherwise stark tiles. The versatile wooden shelves from Jysk are a nod to the traditional wood panelled Finnish sauna without going overboard.
The finished result is a gorgeous space that feels cosy and homely without being cluttered.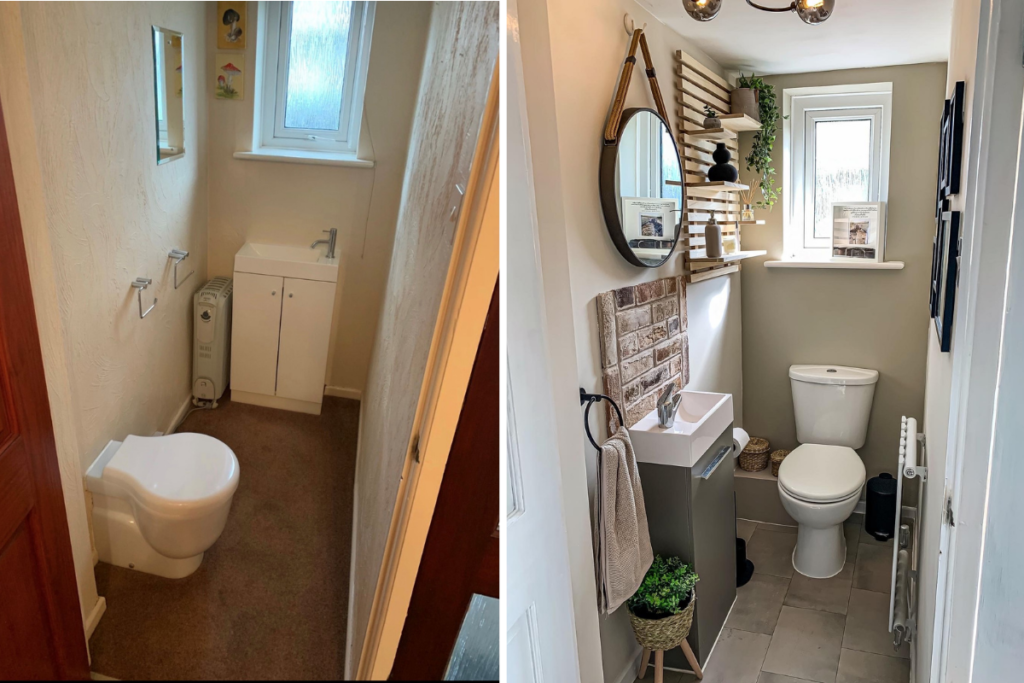 If you're looking to update a drab, small space like this on a budget, savvy Laura has shared her advice on how she used her budding DIY skills to stay on budget while also getting the professionals in for the more specialised jobs:
"I'd 100% recommend trying small bits of DIY and a small room like this is a great place to start as it's not overwhelming. We let tradesmen do the plumbing but I did the rest. I filled a gap in the skirting rather than removing the whole thing and I found even if it's not perfect once painted, caulked, filled etc you can generally cover and disguise it.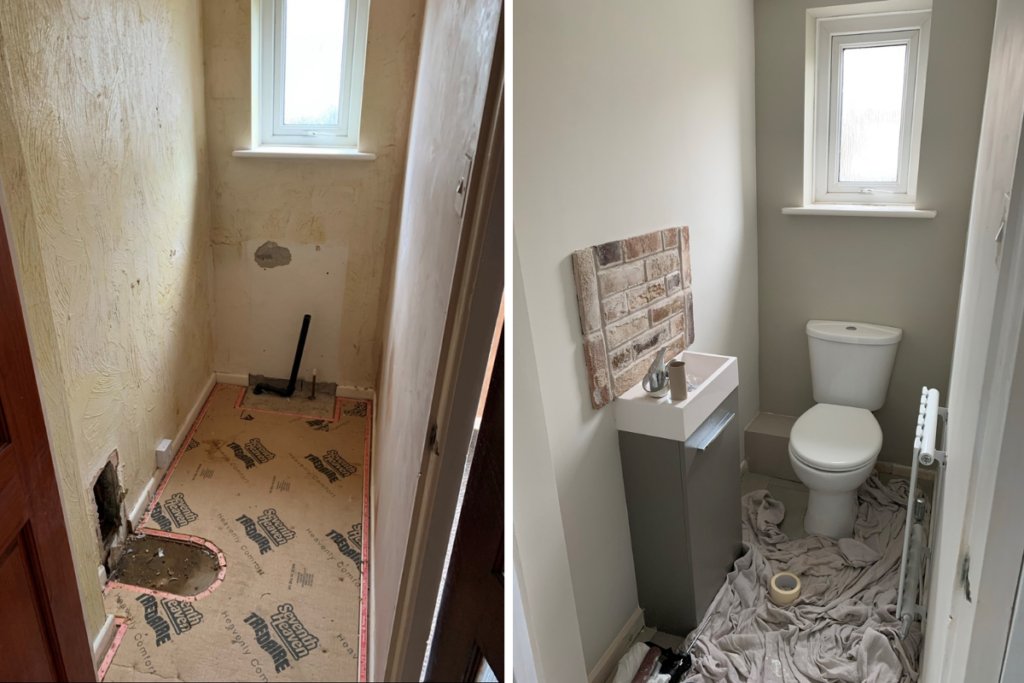 "What I will say to any budding DIYist is similar to what I tell anyone baking a cake – the plain ones are harder because there's nowhere to hide. But with DIY unless it's structural (in which case defo get an expert) it's not too hard to make mistakes or messy bits look better or hidden as you go, so don't stress about having a go!
"There are lots of other ways to save money too, the obvious ones are things like painting yourself, saving money on flooring we picked Vinyl instead of tiles. These days they are great quality and can look however you want such as wood effect or tile. If you've got wall tiles but want to save on removing them, you can use tile stickers or paint to makeover the room without making it into a massive job."