The Roaring 20s have come back round again, so today we're taking a look at how interior trends have changed from one century to another, where we're still influenced by trends of days gone by and where new trends are breaking through in this new decade.
A hundred years ago, people were breaking free of their old ways: war was over, people were free to express themselves in new and flashy ways, and new consumer-focused big brands were popping up as a result of production lines making new appliances and technology accessible to the masses.
While mass production still rules supreme, consumers are now looking to take their custom independently where they can, supporting small businesses with lower carbon footprints. And the glitz and glamour of the Jazz Age has been toned down for a more modern and minimalist home environment – think natural, organic materials rather than decadent, abstract designs and comfort over formality.
Here is our take on the trends for 2020 and beyond: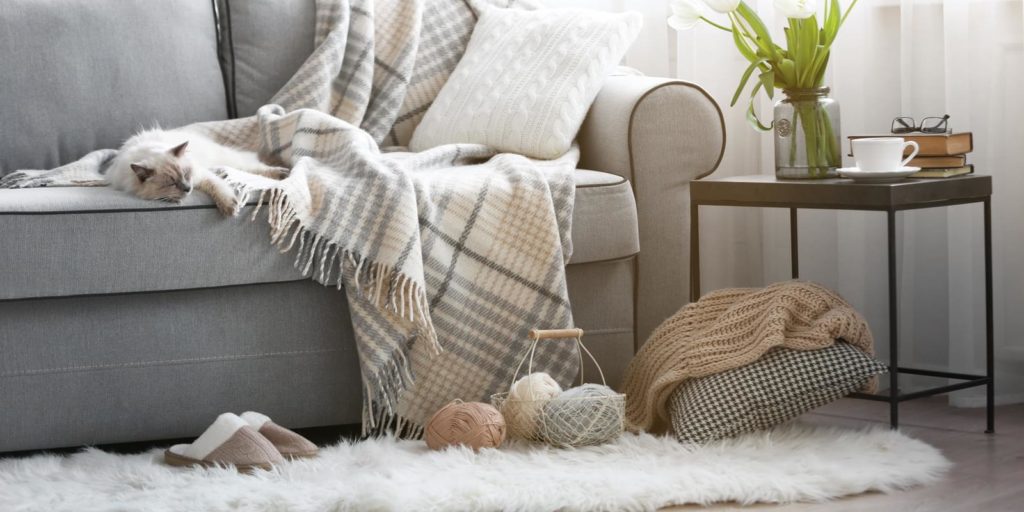 Natural & Organic Interiors
Rekindle your love of nature in 2020. Over the past few years, the focus has been on Scandi concept trends such as hygge and lagom; homeowners have had their eyes opened to a new era of comfort and cosiness alongside minimalism in design. The formality and glam that we knew in the past has been replaced with natural, organic materials rather than decadent design. You'll find this in framed botanical prints, solid wood flooring with a beautiful natural grain and shaggy sheepskin rugs. Our 2020 living spaces will be intimate, cosy and simple.
New Colours
Every season in interior design brings a new colour trend, but cool grey has been top dog for the past few years. As we head into a new decade, mirroring the trend for organic interiors, we'll see the colours of the natural world enter our homes and transform them. Watch for warm neutrals, found in sheep's wool and soft sands; the deep greens of the forest; and calming blues of the sea and dawn.
Tactile Textures
2020 is all about layering your textures. Choose pieces that are beautifully tactile but wildly different, such as a shaggy sheepskin rug and a raw wood grain floor, and pair them together. Velvet cushions with woven throws; terracotta tiles with cork accessories; smooth white sheets with chunky knits.
The New Art Deco
The sweeping curves of nature, found in scalloped edge furniture, fluted vases and architectural arches aren't the only way that the 1920s are making a comeback in the new Roaring 20s. Hints of glamour have been popping up in metallic accents over the past few years and these are set to stay through the decade.
New Technology
The 1920s saw huge leaps in technology as production lines made new appliances accessible to the masses. Today in our own version of the Roaring 20s, we're seeing similar leaps in gadgets, but rather than having these out on show, they tend to make life easier in a more minimalist way: streamlined appliances, smart home voice technology, even as simple as USB ports tucked away in bathrooms.
Shopping Small
At a time when mass production rules supreme once again, consumers are pushing back in an attempt to cut their carbon footprint and have as little impact on the planet as they can. Shopping small, finding independent retailers who can make your home interior pieces to order, will not only help with the reduce, reuse, recycle concept but will also result in more unique finds that will make homes stand out.
Check out what each room of the house looked like according to 1920s trends and 2020s trends – which do you prefer?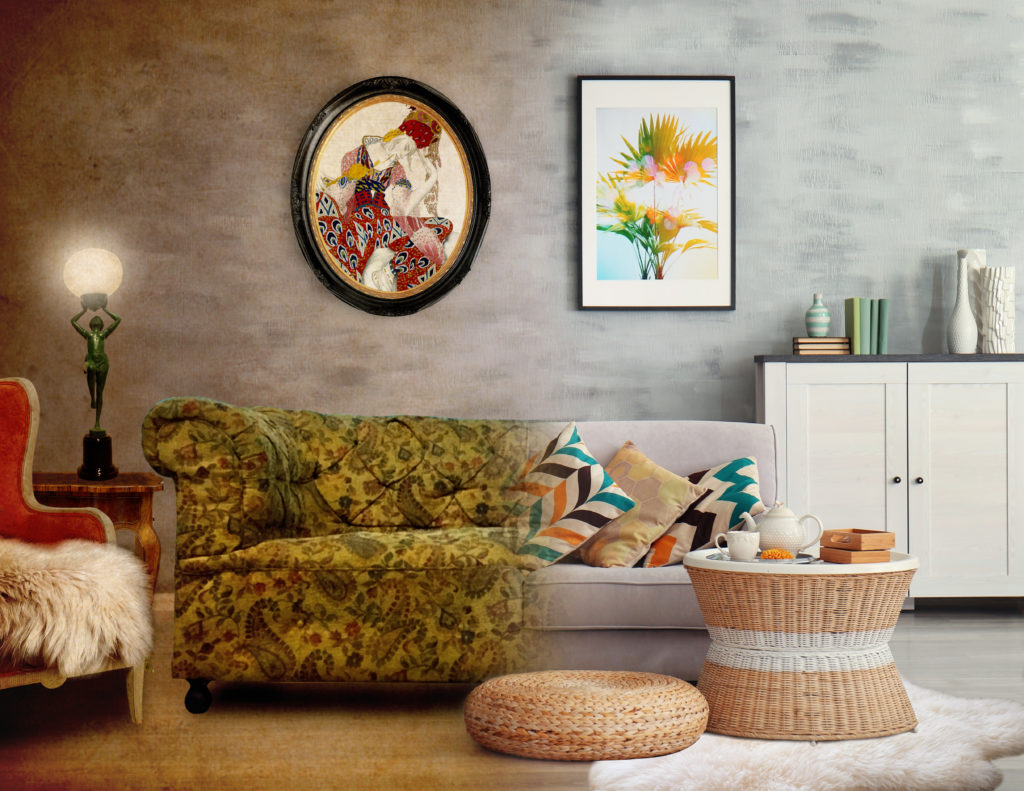 Living Room
The living area of a 1920s household was all about abstract prints and glamour. The classic female dancer figure holding a glowing orb was an art deco staple in any truly decadent 1920s home, alongside velvet upholstery and ornate furniture detailing.
The 2020s living room, meanwhile, features natural fabrics galore: a rattan basket, a sofa displaying its natural raw weave material, a cosy sheepskin rug on the wooden floor. Rather than showing off your taste and wealth, the 2020s living space is comfortable and cosy.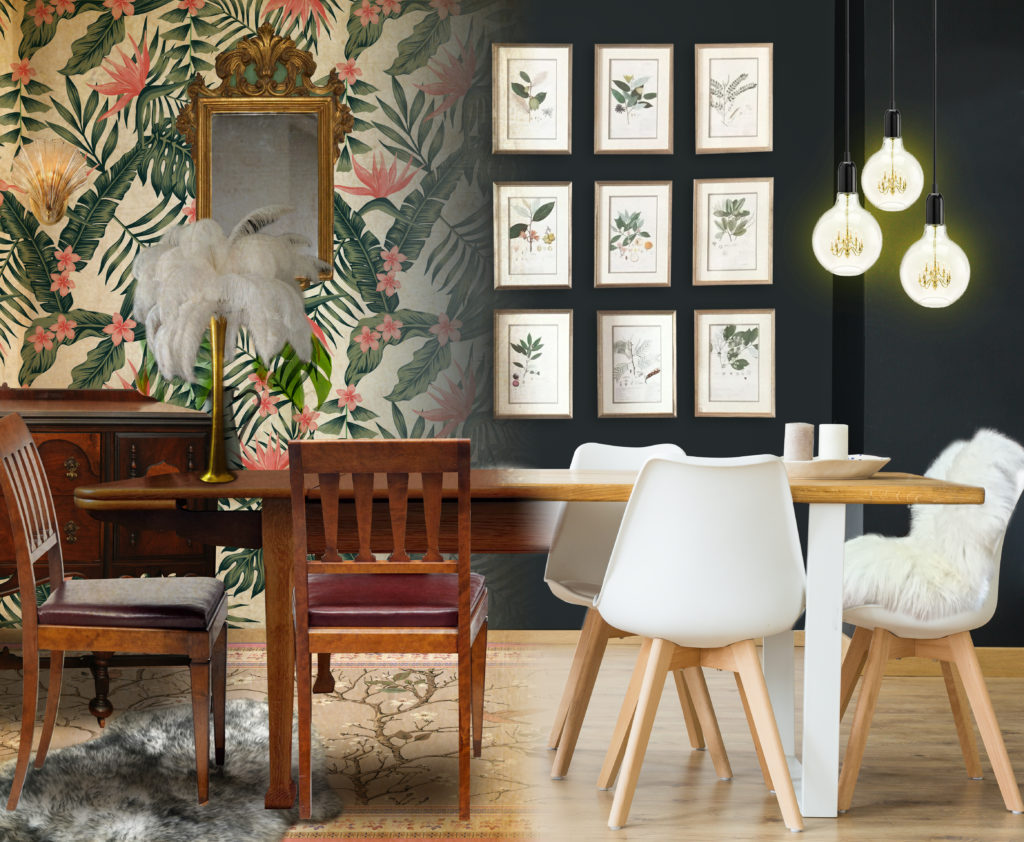 Dining Room
The 1920s dining room was a fancy affair. Ostentatious decorations such as ostrich feathers stood in shiny tall gold vases, tabletops were decorated in lavish mother of pearl designs and ornate furniture such as sideboards lined the walls.
The bold floral wallpaper designs of the 1920s give way to more contained botanical framed prints in 2020, and the polished wooden floors of the 1920s beneath geometric and abstract design rugs become rougher and more natural this decade.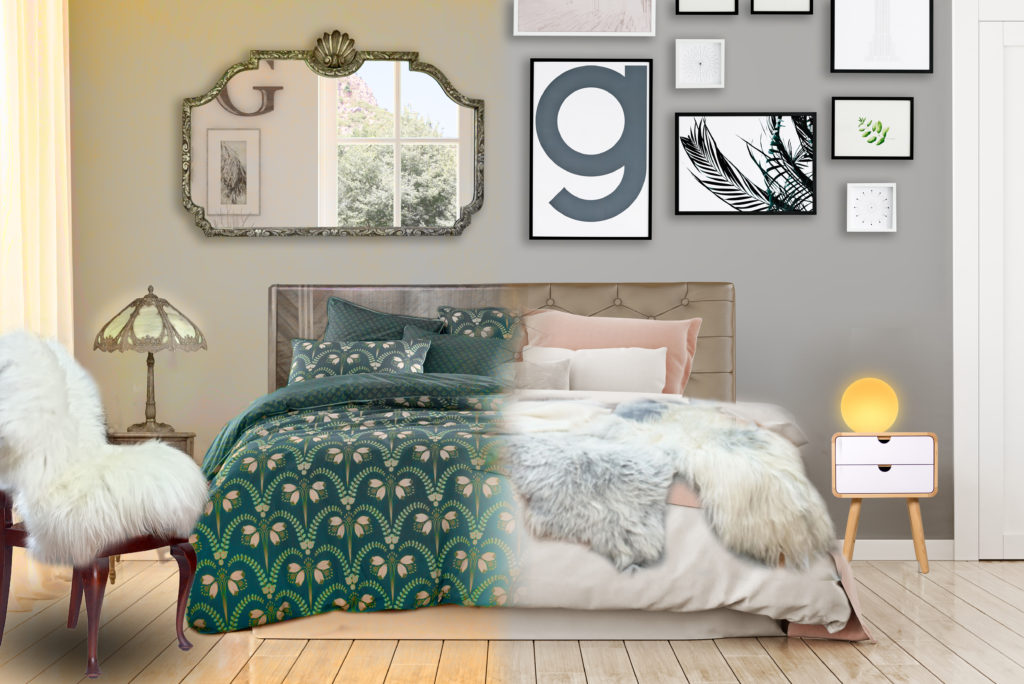 Bedroom
In the 1920s, elaborate bedding with bold decorative motifs in deep, rich shades laid on ornately carved beds, both in wood and metal frames. The ever conspicuous gold detailing of the Art Deco era stood out on gilded mirror frames, inset into bedside furniture and even on ornate lamps.
Where the 1920s were all about decadence in the sheets, the 2020s are comfort: light, airy and cosy. The bed is made with classic white sheets, with warmth added from snug sheepskins and soft pink cushions. It's not all that different though – as the 1920s embraced new technologies for the first time, in the 2020s, we embrace advancing technologies: a warm glow is cast by a smart wake-up light on the bedside table.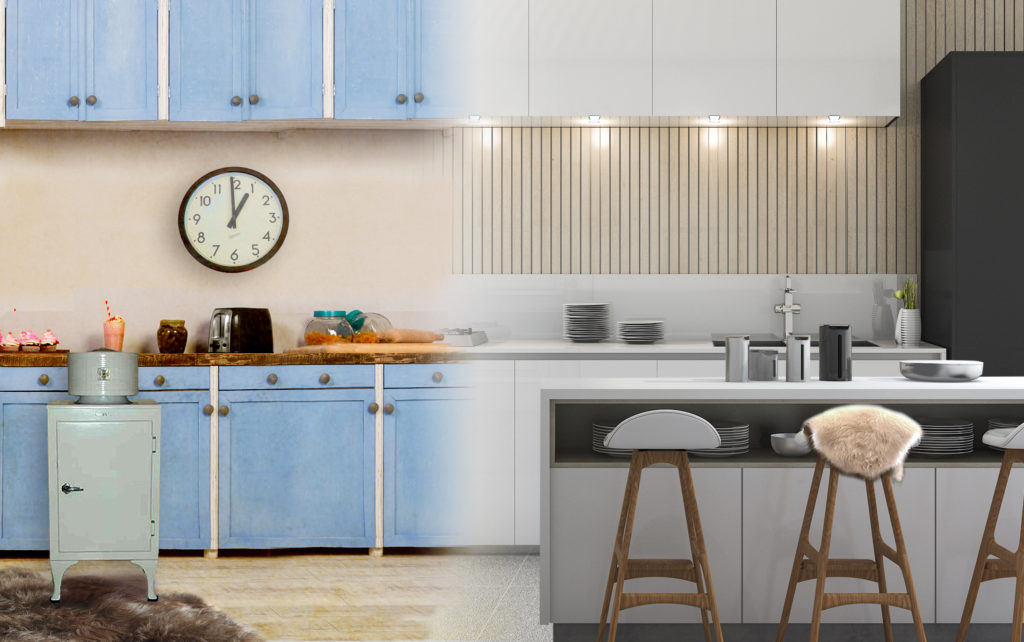 Kitchen
The 1920s kitchen was all about the potential to show off the very best appliances you could afford, be that a new refrigerator, oven or vacuum cleaner. These had only recently become available to the general public thanks to mass production, meaning that only the wealthy could really afford them. Colours in the kitchen were bold; cabinets and appliances manufactured from bakelite, a shiny, brittle plastic, were the trend.
Kitchens in the 2020s are far more streamlined and sleek. Handleless cupboards keep the look sophisticated along with marble countertops and backsplashes, but the look is warmed by natural elements such as raw wood grain flooring, cozy sheepskins and under cabinet lighting.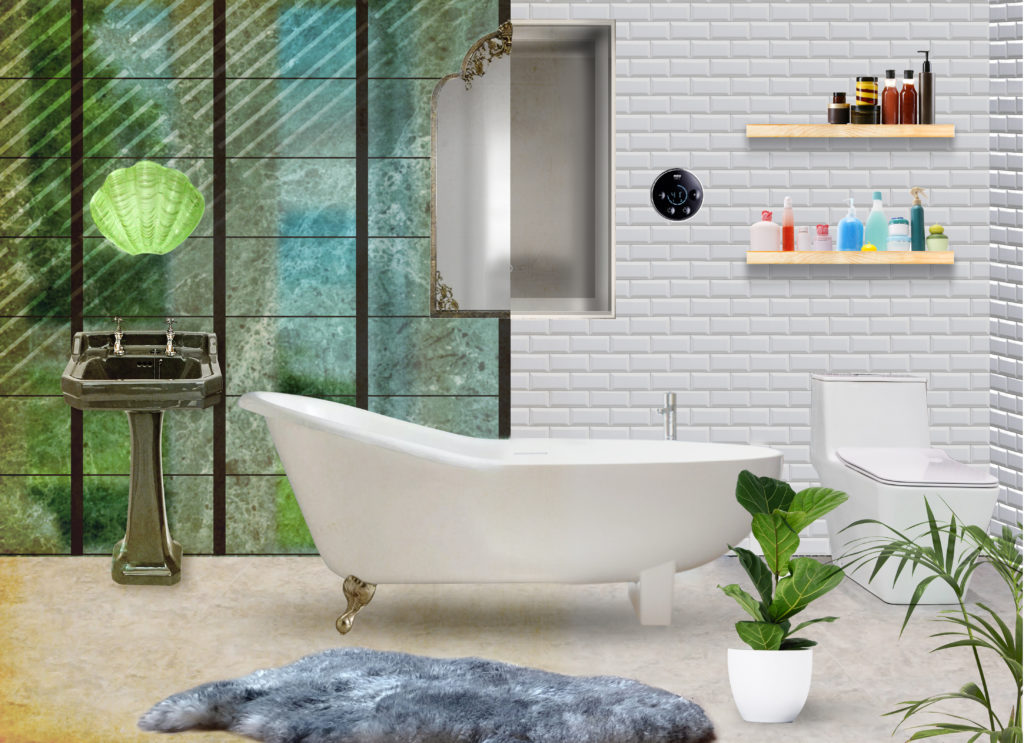 Bathroom
An inside bathroom was something of note in the 1920s, and those able to own one would show it off to the very best of their ability. Walls were decorated with high shine, reflective and decorated surfaces – shimmering gloss and even mirrored tiles in bold shades – and shell shaped sconce lighting and exotic artifacts as a reminder of tropical adventures to demonstrate that the homeowners had the ability to travel at a time when many didn't. Since running water inside was something new, showing off the appliances that could bring it to consumers was key: elaborate and ornate bath and sink designs with brass faucet detailing and plinth-like pedestals.
The bathroom of the 2020s aims to reconnect homeowners with nature but in new ways; it's all about getting a spa-like environment in your own home. This is achieved through clean, streamlined smart appliances – LED temperature displays on the wall, demisting mirrors and USB ports – alongside greenery and stripped back natural wood shelving.