Welcome to the season of falling leaves, chilly evenings, and warm, snug moments – our favourite time of the year! And one of our favourite things to do when the rain is falling is to curl up with a good book. Creating a space to spend some quality self care time with yourself is the perfect way to do this.
Whether you have a spacious home or a compact apartment, creating a cosy reading nook that encapsulates the spirit of autumn is within your reach. No matter the size or style of your home, we've got a few suggestions on how to do this:
Choose the Right Location
Begin by selecting the ideal spot in your home for your autumn reading nook. It doesn't matter if you have a sprawling house or a quaint studio apartment; all you need is a little corner. One with a large window with a view into the woods or next to a crackling fireplace is perfect, but if you're in a smaller space, consider a window seat or a cosy alcove, which you can even create yourself by moving furniture around.
Comfortable Seating
The heart of any reading nook is a comfortable space to sit that invites you to linger. Invest in a chair, chaise lounge, a bean bag, or simply gather up any cushion you can find in your home. Warm, autumnal colours like deep red, earthy brown, or forest green will make it perfect for the season!
To add an extra layer of luxury and warmth, consider adding one of our sheepskin throws or cushions. The softness of sheepskin is absolutely unbeatable, especially on a chilly autumn day. Just picture yourself sinking into this with a good book in hand!
Layered Textures
Embrace the cosy vibes by incorporating various textures into your reading nook. Soft blankets, plush cushions, and, of course, a sheepskin rug create a tactile haven. These layers not only keep you warm but also create a sense of comfort and relaxation. It's like a warm hug!
Warm Lighting
The right lighting can make all the difference in creating a soothing atmosphere. Opt for soft, warm lighting that mimics the gentle glow of autumnal sunsets. Table lamps with amber-toned bulbs are gorgeous, but if you don't have the space or budget, fairy lights draped around the nook will give it a magical, autumnal glow.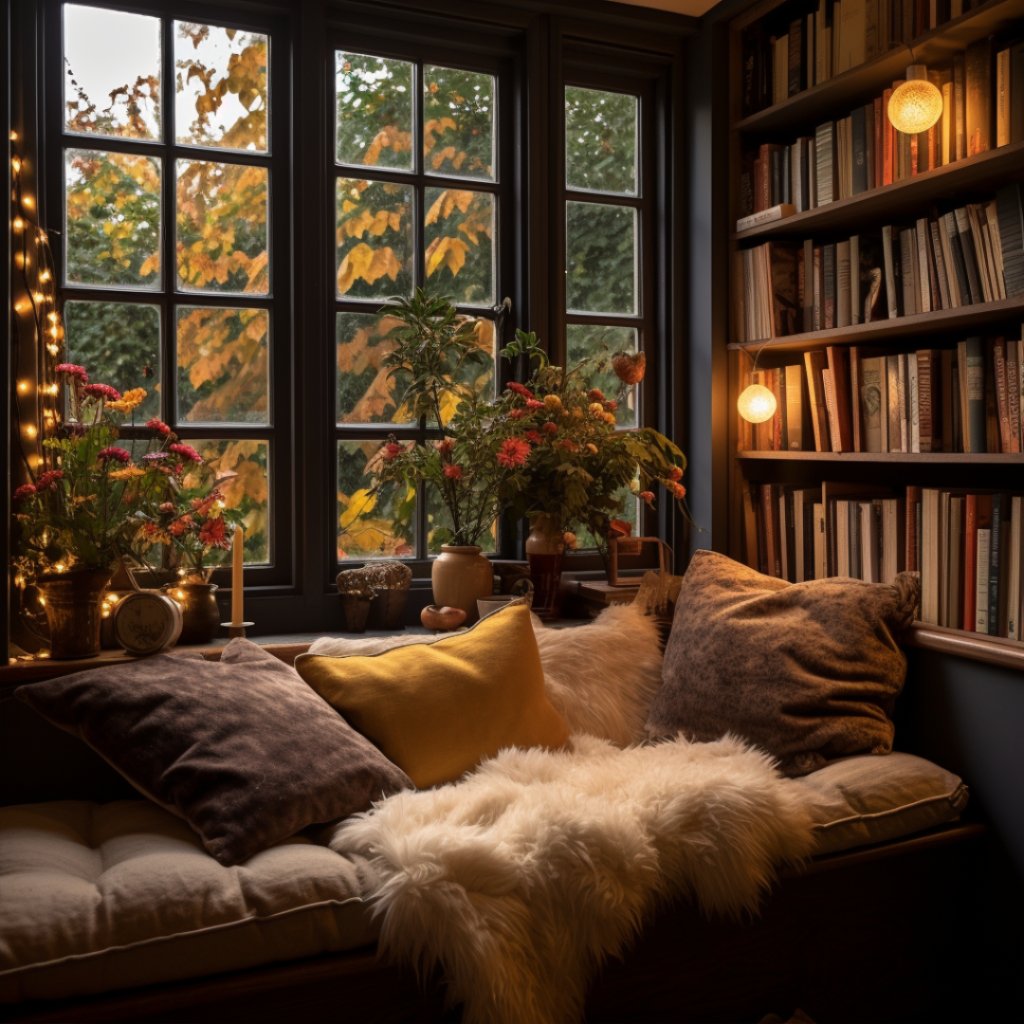 Autumnal Decor
To truly embrace the season, decorate your reading nook with seasonal touches. Think vases of dried flowers, a bowl of pinecones, or even a cute decorative pumpkin (real or fake) to celebrate the beauty of autumn. These little details not only add to the aesthetics but also create a much needed sense connection to the season and the outdoors when we struggle to get outside.
Bookshelves
For the true bookworm, install bookshelves or floating shelves nearby to keep your favourite reads within easy reach. Stock up on a few new reads, whether they're from your to read pile or recommendations on BookTok, and organise them amongst your old faves. The sight of your well-loved books can be comforting and inspiring as you settle in for a cosy reading session.
Personal Touches
Make your reading nook uniquely yours by adding personal touches like family photos, artwork, or mementos. Surround yourself with items that bring you comfort and joy. These personal elements infuse your nook with warmth and personality.
Hot Drink Station
If you've got the space, consider a little coffee table or side table, then stock it up with your favourite teas and coffees plus a kettle. That way, a warm drink will never be out of reach and you never need leave your little reading nook to top up your cup! Hot drinks are so iconic in this season and just add that little touch of something special.
Soft Music and Nature Sounds
To set the atmosphere and help you relax, soft instrumental music can really help. If you find this distracting, the soothing sounds of nature, including gentle rain, crackling fires, or rustling leaves can be truly calming and transport you to different worlds through your books.
With these tips, you can transform a corner of your home into a welcoming, autumnal reading nook, regardless of your home's size or style. As the wind howls and rain taps on the window, you'll have a warm and inviting sanctuary to escape into the world of your books. If you have your own reading nook in your home, tag us in a picture on Instagram, we'd love to see it!