Living rooms are often at the heart of all homes and therefore it's important the style matches the owner. Not only are living rooms made for relaxing in but they are also a place to entertain guests so the balance of decor is important.
As you know, we are big fans of home makeovers and we fell head over heels in love with Rosie's gorgeous living room transformation when we came across her instagram account @no44.house after she purchased one of our sheepskin rugs.
It is safe to say, before the makeover the room was in desperate need of some TLC! Rosie has given us all the details on how she created this stunning transformation and turned this dull and lacklustre space into a luxurious, elegant and cosy room, with a bit of DIY and her keen sense of interior design.
Rosie describes her style as "an eclectic mix of lux, industrial and urban modern" and it's clear to see here how she has perfectly combined all of these styles into one gorgeous living space. We chatted to Rosie to get all the details behind her living room transformation and how she achieved the beautiful look. This included totally changing the colour scheme, opening up the bay window with plantation style shutters to make the most of the natural light, and installing a new fireplace. They started right from stripping the whole house down at the very beginning in order to get the cosy atmosphere they were looking for:
"We did a fair amount of work to the house when we bought it, we added new electrics and new plumbing so this room was eventually replastered which gave us a great blank canvas to work with. We wanted it to feel cosier than other rooms in the house as this is where we spend most of our evenings to chill out."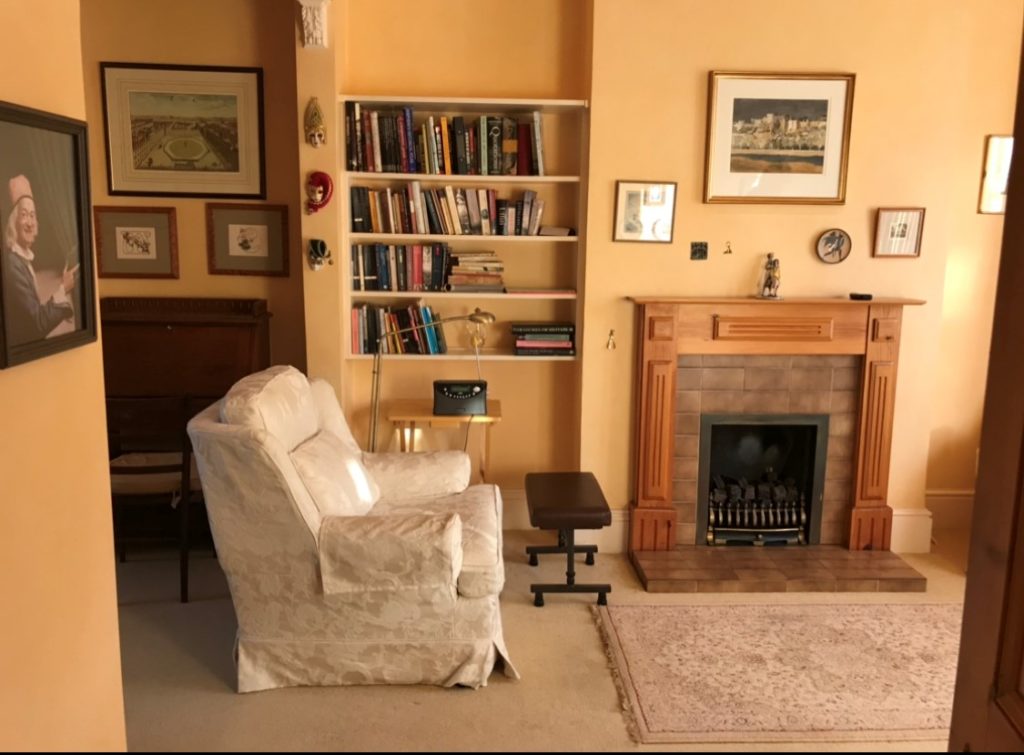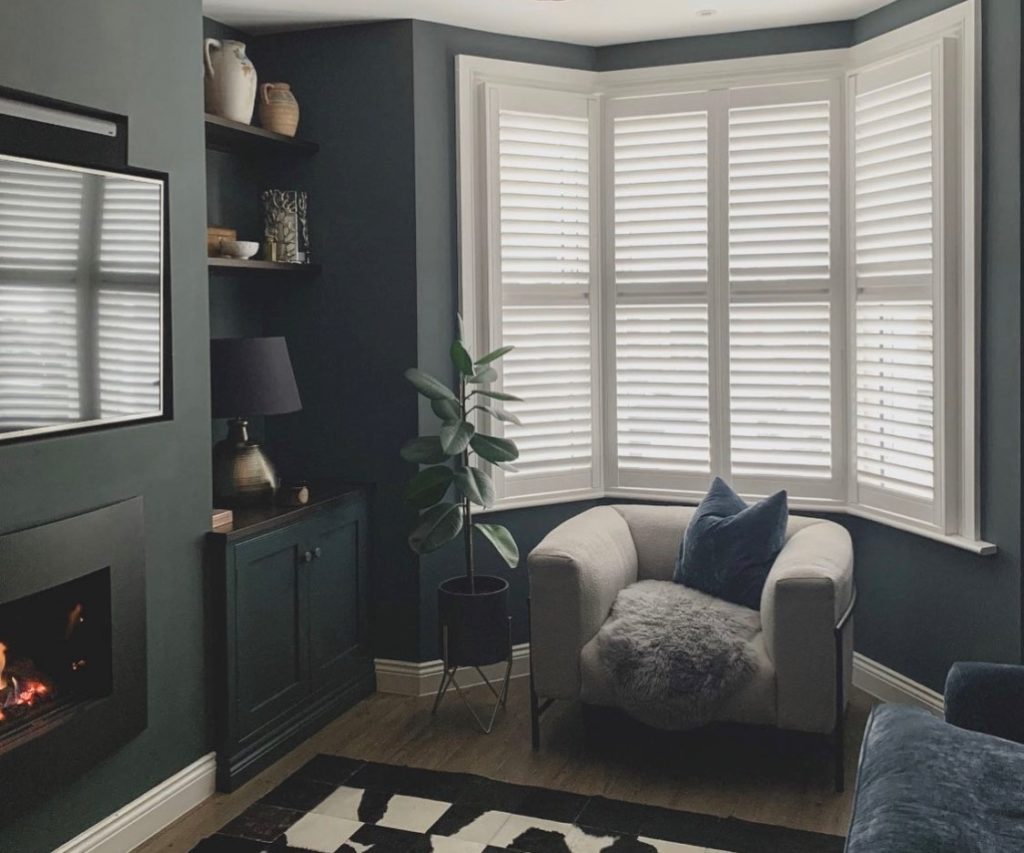 We absolutely love the emerald toned green paint used in Rosie's living room and think this is a perfect choice for such an intimate and cosy environment. Jewel tones are bold and exciting and naturally inspire creativity and ooze personality in any space they are used. Rosie explains how they made the decision to veer away from the usual greys and neutrals found in a home:
"We also wanted to be daring with the colour as we had moved from a flat that was painted in a light grey throughout, so we wanted to be more adventurous this time around. The walls are painted in Paint and Paper Library in the colour squid ink. This was the perfect shade for us. It's dark without being too heavy and it also changes in the light throughout the day. We also chose a very luxurious, dark greeny blue velvet sofa which really adds some drama and sets off the wall colour beautifully".
The drama is all in the details, and Rosie highlights that her favourite feature of the room is "without a doubt, the bay window. It's definitely the wow factor when you walk into the room. We have a cosy armchair here that's lovely to sink into, especially with a sheepskin rug on it. This is also Basil's favourite spot! He sits quietly there for most of the day watching the world go by and snuggling into the sheepskin."

We, of course, think the addition of our neutral sheepskin rug is the perfect contrast against the bold paint and adds additional texture and depth to the room. Neutral tones paired with bold colours bring energy and creativity, as well as a sense of grounding and stability, and we love the combination together.
With home renovations and makeovers becoming ever so popular during the pandemic, people are looking for smart and cost effective ways to transform their rooms. If you're looking for some budget friendly tips on transforming a living space, Rosie has shared her favourite ones:
"Don't settle for the first item you find, keep searching for alternatives at different prices! I'm big on research and spending the time to find things at the right price, it pays off. Also, with larger pieces of furniture, wait for a sale! We saved a lot on our sofa by waiting a little longer".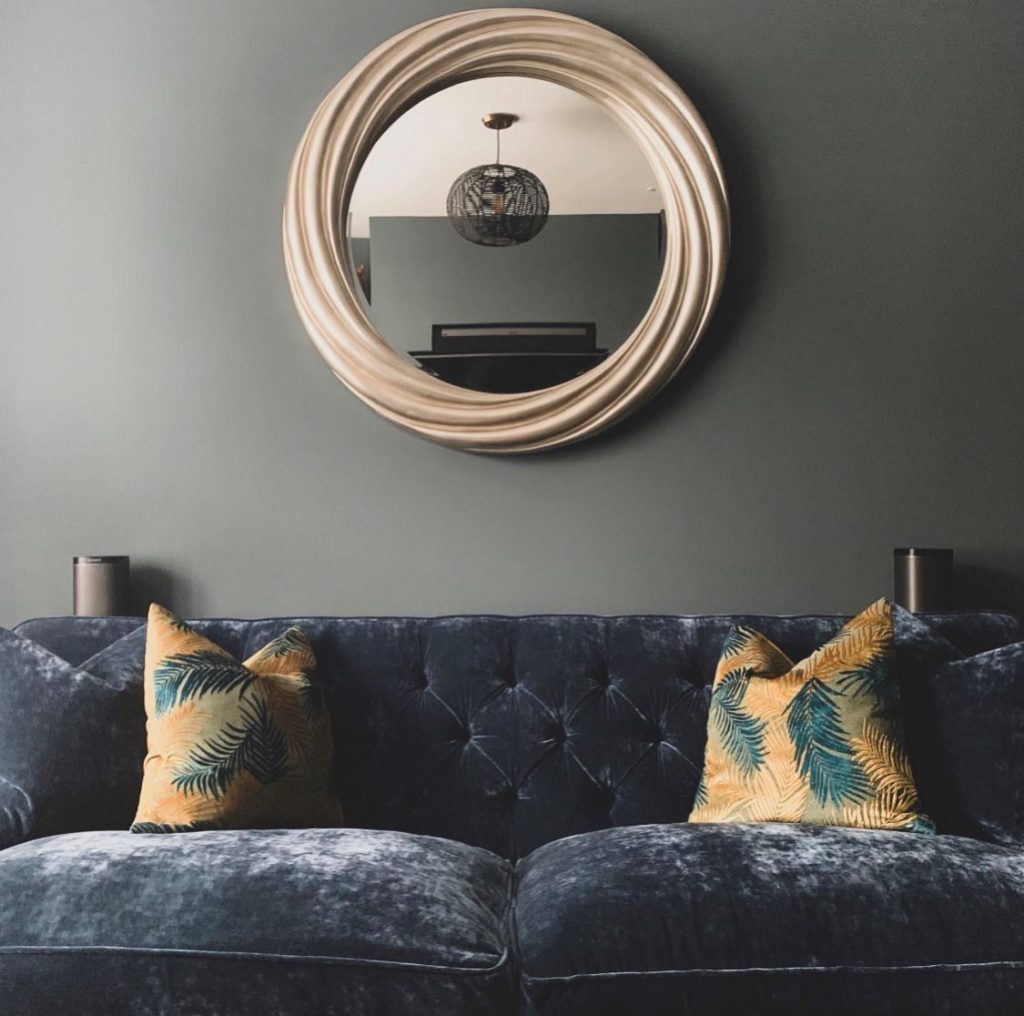 Of course we had to ask how Rosie keeps her home looking so fabulous and stylish whilst sharing it with her four-legged friend Basil:
"We are quite lucky with Basil as he doesn't molt, he does however like to use the furniture to play on and eat his chews! Having a throw or a blanket down can help prevent little scratch marks and keep it looking new. Sheepskins are perfect for this as they look great and add a lovely texture to a space, while at the same time protecting the furniture underneath, we love them!"