It's official….Summer is around the corner and we couldn't be more excited! Don't worry…we still LOVE Autumn and Winter for obvious hygge vibes reasons though! 
Summer is the perfect time for enjoying the great outdoors, spending time with family and friends and making the most of the beautiful weather (it won't stay around for long!). Who doesn't love relaxing in a freshly mown garden with the smell of the BBQ cooking away? 
Here are our top tips for making the most of your very own summer garden…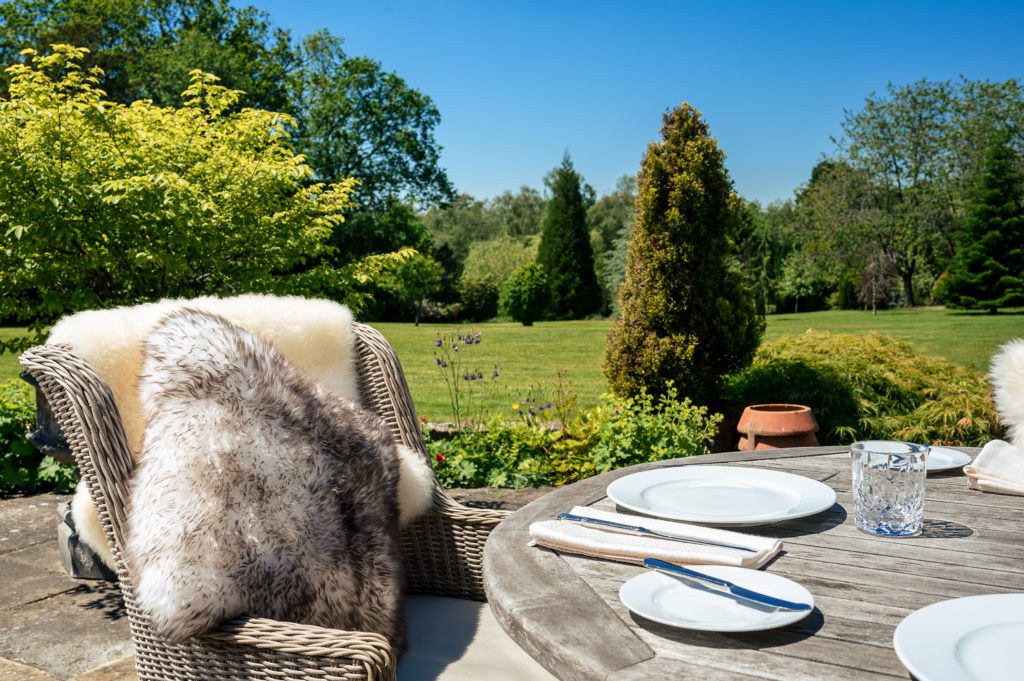 Go big
Make your garden look established in a heartbeat, add a large shrub or tree and your garden will instantly look put together. Also purchasing plants that are in full bloom is another great hack to make your garden feel more developed. We love hydrangeas and fuchsias – the colours are so pretty! 
If you have the space in your garden, having a big dining area creates an extra room for you to enjoy in the warmer months. Dress your table with sheepskin cushions and use rugs as throws over chairs. Sheepskin cushions are sumptuously soft, easy to clean and will help to keep you at the perfect temperature. You can see our stunning wolf tip cushion in the photo.
Create a centrepiece
Adding a focal point to your garden is a really effective way of creating a luxe appearance in an instant. You can choose how to do this, but some ideas include: 
Adding a water feature
Creating a large flower bed – this can either be in the ground or built up with a variety of planters
Building a summer house
A decked terrace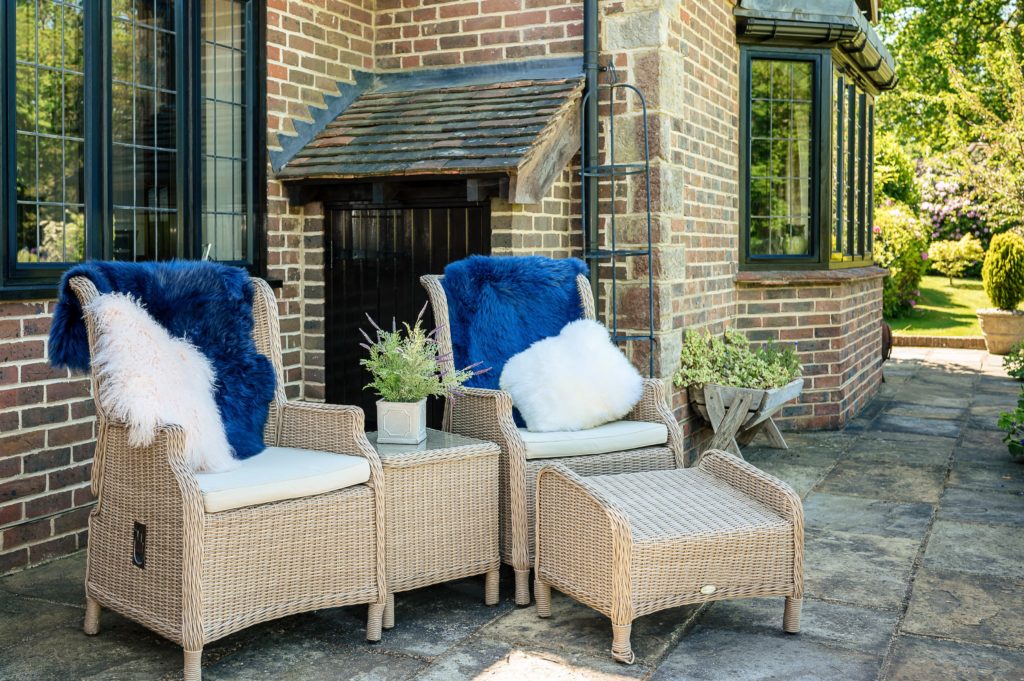 Add colour
Adding splashes of colour to your garden will really make it pop! Colour adds brightness and makes your garden look full of life! Our favourites for Summer are: 
Sweet Alyssum – you can get this in a variety of colours, pink and purple are our favourites!
Lavender – this one needs no explanation, beautiful colour paired with an even more beautiful scent
Sunflowers – these gorgeous blooms just scream summertime!
Marigolds – these sweet flowers are like a little ball of sunshine in your garden!
We love the pop of blue these rugs give to this patio furniture! Changing the colours of your cushions and throws regularly can change the whole appearance and feel of your space; a much cheaper way of refreshing your environment rather than spending lots of money on landscaping, new furniture and plants.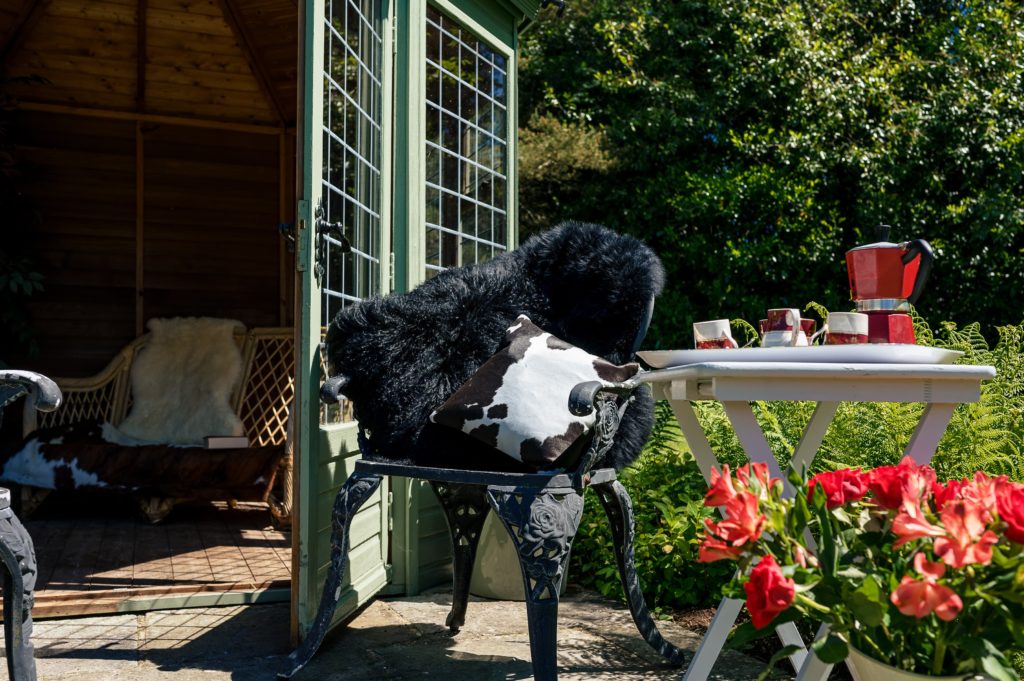 Create areas
If your garden is big enough then try to create different areas, you can do this by using borders to establish boundaries, compartmentalising areas with planters or using different floor textures. Having an area of patio or decking for a seating area can really help the garden feel put together and almost like an extra room. A huge trend for the past few years has been to have inside and outside living areas flowing as if they are one, bifold and French doors are a great way to facilitate this.
Adding a sheepskin rug to your sitting area is a great way to add texture, warmth and comfort. Sheepskin has so many natural benefits and sitting on a rug outside can help to keep you cool when it's hot and can offer a layer of warmth on chilly evenings.
You can also add sheepskin rugs and cushions to sun loungers and almost any kind of patio furniture, this is sure to wow guests and create the ultimate relaxing space.
Sheepskin rugs also make a great picnic blanket, naturally antibacterial and super easy to clean, they are a perfect choice!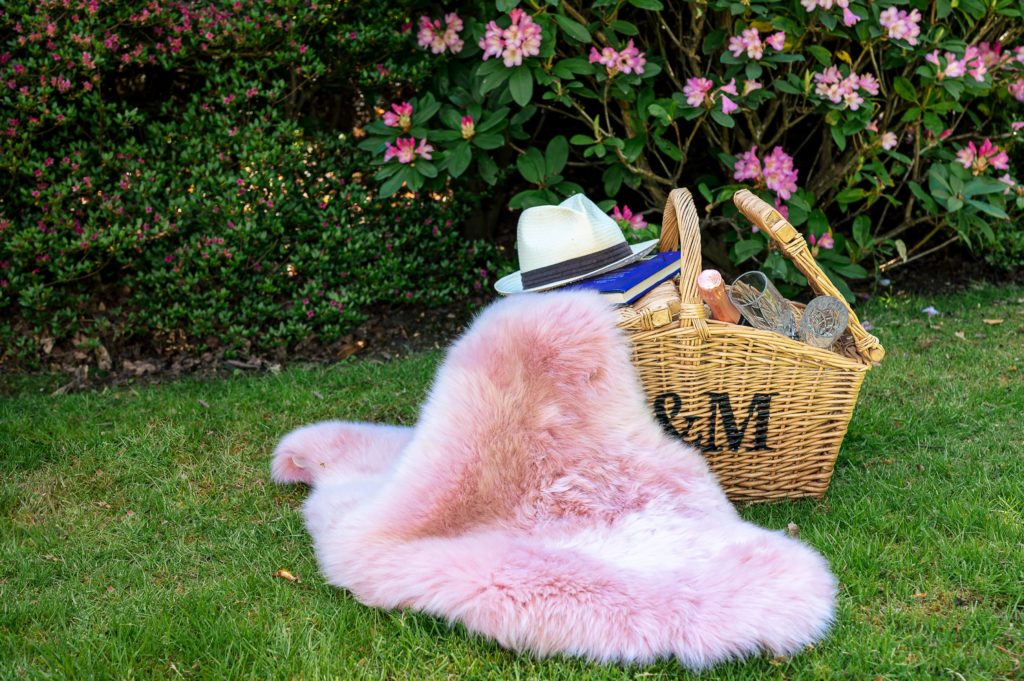 You can see our gorgeous rosa pink sheepskin rug in the picture.
Keep things tidy
Keeping on top of weeding regularly can save you from doing it all at once and it becoming a huge task! If you're not very green-fingered then a great hack to avoid weeding is by using planters instead of planting straight into the ground. It's important to give some thought to the planters you chose and match them up nicely; using ones that are different heights creates a nice feature.
We hope you enjoy the beautiful British summertime!