A whole-house renovation can feel overwhelming, to say the least! There's so much to think about ranging from big structural jobs to the finer details such as paint choice and decor pieces. Since the pandemic began, more and more homeowners are deciding to take up DIY to get their home projects completed. Especially after spending so much time at home over the past few years, people now know exactly how they want their home to look and feel.

Carrying on with our Get the Look series, we reached out to Lianne when we found her Instagram account @bohazelandco and saw her incredible whole house renovation! Lianne has completely overhauled her home and the end result is just breath-taking. We had to find out how she achieved the incredible transformation so we reached out and asked her everything you need to know!

Lianne told us that when designing her home she stuck to three key themes: classic, modern and rustic. The mix of old and new together create a calm, light and airy space and using natural decor textures with cushions, throws, vases and greenery make a space feel inviting. Lianne suggests that if you struggle to stick to a particular style then just pick items that you love and feel like you. Lianne also says she gets a lot of her style inspiration from Instagram and Pinterest when it comes to home decor so these are great places to start out to gather initial ideas.

When it comes to renovating a whole house, and not just a room or two, it's easy to feel overwhelmed very quickly so it's important to have at least one room completed so you can escape at the end of a long day. Lianne did exactly this and decided to complete her bedroom first and foremost so she and her husband could relax after a long day of DIY!

Before Lianne got the keys to her home, nothing had been done for around 20 years so everything was in desperate need of modernisation and a bit of TLC.

We love the sage green accent wall in the bedroom, this shade was one of the most popular colour trends for 2021 and we don't see it going anywhere in 2022 either! This soft earthy tone is the perfect choice for a bedroom as it brings a sense of peace, serenity and grounding.

If you're feeling overwhelmed with ideas and final decisions then Lianne's top tip is to create a mood board, doing this will help you keep a cohesive look through every stage of your redesign. Lianne also adds:

"Do plenty of research, always check multiple sources before starting any job to see how it's supposed to be done and work out what you need for each project before you start!"

Lianne continues:

"It's all in the prep work, for example filling, sanding and priming a wall before painting will make all the difference."

Another top tip is to "shop around for bargains and deals, wait for sales and buy through cashback sites – this way the savings can really add up!"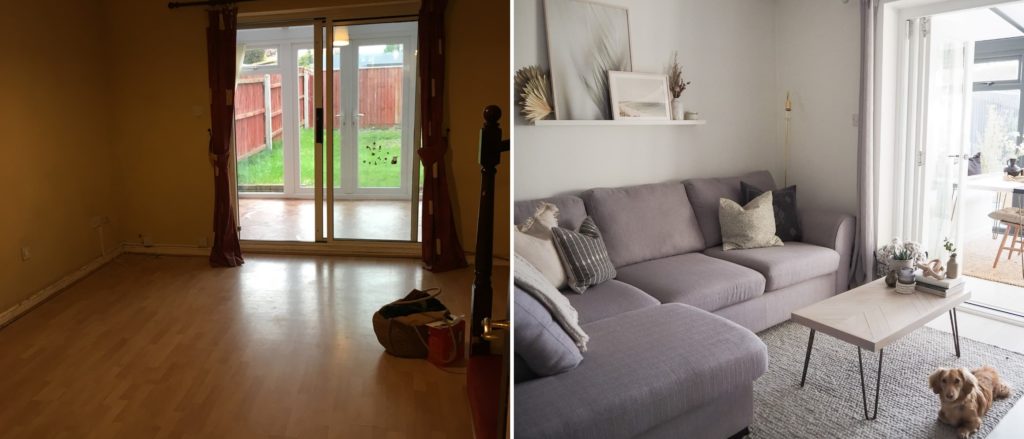 One of the biggest transformations in the house was the living room, this space was dull and gloomy but after a lick of paint and some clever furniture choices, this space now looks completely different. The natural light from the conservatory just brings this room to life and the decor pieces give a high end and cosy feel. Lianne told us that she only ever buys things that she completely loves and often cycles through items if they don't quite fit a space. Lianne adds:

"It's the little details that matter and by curating small vignettes that work in harmony together you can make your home feel cosy. Upcycles are a great way to add personality to a room – I've made Polyfilla art, painted vases and completed IKEA hacks. I have always loved art so it's a great way to express myself and experiment with new materials. We have done almost everything ourselves throughout the renovation and learnt as we've gone along, that's the best way to add personality!"

We asked Lianne what her favourite part of the house was and why:

"My favourite space in the house is our conservatory which we use as a dining room. This was one of the last rooms we tackled as it needed a lot of work! It was such a cold room before with old vinyl glued to the concrete floor, plastic uPVC side walls & windows and a bare brick wall. We insulated the walls and then installed tongue and groove to disguise the plastic. We then replaced the floor and painted the white plastic framework dark grey. Finally, we built our own storage bench and table which allowed us to make them the perfect size for that space. Now it's a beautiful room to cosy up and enjoy the sun on a warm summer's evening with the doors open to the garden."

One of the biggest renovation jobs to do in the house was the bathroom, Lianne adds:

"We weren't planning on renovating the bathroom as soon as we did but once we moved in we soon realised it had to be a priority. The water pressure was shocking and everything needed ripping out. I designed the space myself and shopped around for the suite and tiles as I love a deal or bargain. We started with the plumbing and moved the shower to the other side of the bath and then installed a water pump in our airing cupboard for extra pressure. My husband had the patience of a saint when doing this as it took a few months and he was learning from my Dad as he went along; it's all worth it for a pretty shower though! We built a stud wall to disguise all the plumbing and incorporated a little cupboard for extra storage. The biggest learning experience for me was the tiling. I chose a lovely tile from Mandarin Stone and decided to do a herringbone pattern. This took me a few weeks and was tricky at times but I'm so happy with the overall result."

What a transformation! We love the soft muted duck egg blue shade of the tiles and the herringbone pattern, this is a huge trend for 2022. The black detailing on the mirror brings this whole room together and gives an ultra-luxe feel.

Finally, we asked Lianne what her budget-friendly tips are on transforming a whole house:

"Do as much as you can yourself without compromising on the finish. You'll make mistakes but learn as you go, getting quicker the more you try. We didn't have loads of money or time so we had to be clever and patient. I had big plans and many Pinterest boards and thought we'd get the whole house done in a few months…fast forward almost 3 years and we're just finishing off the last room! Always make sure the walls and flooring are to your taste before anything else as this is the canvas on which your design will come to life. Waiting for sales on flooring and installing it yourself can help keep costs to a minimum. When buying furniture and accessories for your home make sure you shop around; there's always a deal out there to be found!"