Grey Luxury Sheepskin Pet Bed
You are here:
Home

→

Grey Luxury Sheepskin Pet Bed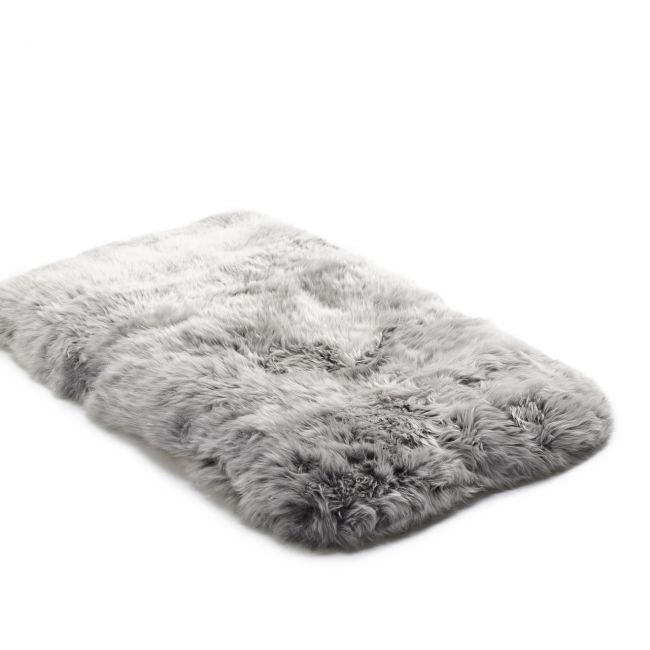 Product details
Give your pooch or feline friend the gift of a warm and comfortable place to relax and sleep with our Grey Luxury Sheepskin Pet Bed. This Sheepskin Pet Bed has an anti-slip backing for stability and to keep it in place even when your pet is over-excited and runs into it at speed.
The light grey colour of this pet bed is ideal for any interior décor and fits perfectly with your existing soft furnishings while exuding luxury and elegance. Boasting a long-wool finish, the sheepskin benefits from being a naturally absorbent material and ideal for warming your pet up after being outside in the rain.
This lightweight bed is the perfect choice for your pet and is great for lounging in front of the fire, in their basket, or even to take with you to a friend's home when you and your pet are away for the night.
Our Grey Luxury Sheepskin Pet Bed is available in three different sizes to suit your pet's size. For smaller pets opt for the 74 x 46cm bed, for medium-sized pets the 89 x 56cm bed is a perfect choice and for those larger than life companions, or those that you simply love to spoil their pet, the 104 x 66cm is an excellent choice.
Sizes:
Small – 74cm x 46cm
Medium – 89cm x 56cm
Large – 104cm x 66cm
Recently viewed items